Recommended Global Petroleum Conferences
Asia Pacific & Middle East
Petroleum Processing 2020
About Conference
Conferenceseries LLC Ltd. invites all the participants across the globe to attend the "10th International Conference on Petroleum Processing and Petrochemicals" scheduled during October 28-29, 2020, at Amsterdam, Netherlands
Petroleum Processing 2020 is a global overview with the Theme: "Exploring and Enhancing the recent trends and applications in Energy World"
Petroleum processing conference directs towards addressing main issues as well as future strategies of global energy industry. This is going to be the largest and most promising international conference where oil and gas engineering professionals as well as decision makers will come to discuss and debate on various aspects of the challenges, risks and investment opportunities throughout the complete integrated energy and utilities supply chain.
Importance & Scope:
Petroleum processing is nothing but refining which is an industrial process where crude oil is extracted from the ground and transformed and refined into useful products like Liquefied Petroleum Gas (LPG), kerosene, asphalt base, jet fuel, gasoline, heating oil, fuel oils etc. Important steps in Petroleum refining process are Separation, Conversion and Treatment.
Petrochemicals are chemicals derived from petroleum or natural gas. They are an essential part of the chemical industry as the demand for synthetic materials grows continually and plays a major part in today's economy and society. Petrochemicals are used to manufacture thousands of different products that people use daily, including plastics, medicines, cosmetics, furniture, appliances, electronics, solar power panels, and wind turbines. Petrochemicals are derived from hydrocarbons such as propane, ethane, butane, or other components separated from crude oil and natural gas liquids.
10th International Conference on Petroleum Processing and Petrochemicals will focus on many interesting scientific sessions and covers all frontier topics in Petroleum Processing and Petrochemicals which includes Petroleum refinery processes, Refinery feedstocks, Thermophysical properties of petroleum crude oils, Crude distillation, Catalytic reforming, Thermal Cracking and coking, product blending, hydrogen production, fuels, safety in Petroleum refineries, refinery economics, environmental aspects of refining, synthesis and processing of petrochemicals, modelling and simulation of petrochemicals, petrochemicals market and many more. The conference also includes Keynote speeches by prominent personalities from around the globe in addition to both oral and poster presentations.
Why to attend?
Petroleum processing conference aims at multi-disciplined audience with diverse commercial, technical, corporate, operations, planning sectors of the upstream oil and gas engineering services. Meet Your Target Market with members from around the world focused on learning and sharing about Upstream Scientists/Engineers; this is your single best opportunity to reach the largest assemblage of participants from the global oil and gas engineering industry. World-renowned speakers, the most recent techniques, tactics, and the newest breakthroughs in the upstream sector of oil and gas engineering are hallmarks of this conference.
Target Audience:
Petroleum Engineers, Scientists, Researchers, Professors, Students, Delegates from petroleum Department, geologists, geophysicists, reservoir engineers, production engineers, Chemical Engineers.
Sessions and Tracks
Track-1: Petroleum Engineering:
Petroleum engineering is the branch of engineering; it is concerned with the production of hydrocarbons, they can be of crude oil or natural gas. The petroleum engineer ensures with energy which plays a key role in our everyday lives from smartphones to cars and to houses. Petroleum engineers often work on oil and gas projects in some developing areas. Petroleum Engineering has started to solve the difficult situations in oil extracting and refining, later on with the increasing technology there is improvements in computer modelling and application of analysis and statistics. In recent times to propel the petroleum industry to more safe and efficient the Sensors, automation and robots have been used.
Overseas drilling activities
Design surface collection and treatment facilities
Society of Petroleum Engineers
Track-2: Geology and Exploration:
The Geology is the study of knowing the origin, movement accumulation and exploration of the hydrocarbon fuels whereas Exploration is the research operations for the deposits of hydrocarbons in the earth using the petroleum geology by the geologist and geophysicists. The activity and management of exploration assets is risky but the risk can be controlled by adopting appropriate workflow and technological innovations.
Geological mapping and prospecting
Drilling the exploration well
Exploration geophysics
Oil and Gas reserves
Track-3: Drilling and Well Operations:
Drilling is the process of digging a bore hole into the earth's subsurface using a mechanical rig. After drilling and casing the bore well it must be able to produce oil and gas. A number of steps that are required for the operations is to prepare a location for drilling, operating and finally to reclaim the site. The operation process involves in planning, setting conductor pipe to isolate, drilling the surface hole and set casing for surface to protect the groundwater, after the drilling and casing the well the completion should be done which is to enable to produce oil or gas and finally the production for the extraction of petroleum.
Offshore drilling
Hydraulic fracturing
Oil spill
Control of drilling operations
Drilling mud chemicals
Track-4: Upstream, Downstream and Midstream Integration:
The Upstream, Midstream and Downstream are the three production sectors in the Petroleum industry. The upstream sector refers to the exploration and production and it includes searching for the underwater crude oil and gas. The midstream refers to the storage and transportation of crude oils and refined petroleum products and finally the downstream sector refer to the processing of raw materials and refining of crude oil.
Midstream, upstream interface Optimisation
Extraction of petroleum
Oil refinery
Track-5: Onshore and offshore Support:
The onshore and offshore are the two drilling processes. The onshore drilling is the process of digging deep holes under the earth's surface and the offshore drilling is the drilling underneath the seabed. The main theme of the Onshore and Offshore drilling processes is to extract the natural resources like oil and gas from the earth's crust. In the extraction of oil and gas the onshore is less elaborate comparative to that of the offshore. In the worldwide 25% of oil deposits are found in the offshore deposits.
Air emissions
Waste management
Track-6: Pipelines and Transportation:
In the petroleum industries to transport the extracted oil and gas from wells to refineries the pipelines are used. Through the pipelines the oil is pumped from wellhead to refinery across the land. The transportation takes place through railcars, vessels, pipelines, trucks and tankers. The pipeline transport system is a long distance transportation technique. According to the quantity that is being moved we have to choose the flexible transportation while the transportation is taking place there may be the chances of spilling of oil and the oil is toxic to the living animals.
Marine vessels
Concrete Barge
Track-7: Petroleum and Petrochemicals:
The petroleum is found beneath the earth's crust. It is a fossil fuel that is it has been the decomposition of organic matter a million years ago. The extracted petroleum is refined into fuel. The petrochemicals are the chemical products that are obtained by refining the petroleum. Example: liquefied petroleum gas (LPG), Petrol, Jet fuel, Kerosene, Diesel Oil, Gasoline and fuel oils. In the petrochemical industries they produce large number of industrial and consumer products such as plastics, rubber, fertilizers and the petrochemical industries primarily produces Ethylene from oil or gas.
Transformation of kerogen into fossil fuels
Instrumentation in petrochemical industries
Organization of the petroleum exporting countries
Track-8: Petroleum Processing:
Petroleum processing is the refining process, where we convert the Crude oil to useful products. The petroleum refinery industries are the large complex units and each unit of refinery has its own unique arrangement. The major quantity of the petroleum is converted to petroleum products. It also produces various intermediate products like hydrocarbons, gasoline and hydrogen.
Vacuum Distillation
Chemical Exposures
Track-9: Refining Blending:
By the refining blending process major refining products produced are jet fuels, gasoline and diesel fuels. In the gasoline refining blending operation, different component streams have been blended into various gasoline grades. The gasoline blending process is more complicated process than any other processes. The main critical issue for petroleum refiner is the selection of components for the final product.
Optimizing blend for gasoline and diesel fuel
High temperature blending
Track-10: Fuel Quality Management:
The fuel must be stored carefully and managed to be kept in good premium condition because ethanol and fatty acid methyl esters adsorb water. Due to the poor fuel quality there may happen unnecessary repairs and costly downtimes.
Fuel Polishing
Mobile fuel testing equipment
Track-11: Additives and Additive Selection:
The additives are the chemical compounds which are used to improve the performance of the lubricant oil. Different additives are used for each specific application. In all the motor oils there contains the additives, whether the oils are petroleum based or synthetic based. The main use of the additives in the lubricant oils is to protect the engine of the motor vehicle. The additives have different character that is, they are organic or inorganic compounds and they may dissolve or suspended as solids in oil. The role of the additives is to enhance existing base oil properties, impart new properties to base oil and supress undesirable base oil.
Conventional lubricant Additives
Meet distillation fuel specifications
Track-12: Environment pollution and treatment Technologies in Petroleum Processing:
In the refining process and refineries areas where they are located there occur a major source of pollutants which are related to air, land and water. Petroleum industries are the main source foe the toxic pollutants and hazardous pollutants, these are also major contributes for water contamination and soil contamination. To avoid these pollutants waste water treatment, and spilling control treatments have been using.
Mitigating Pollution
Soil Remediation and Pollution Control Technologies
Waste characteristics
Track-13: New Techniques of petroleum Exploration and Production Technology:
In the petroleum exploration and production with the increase in technology new techniques have been implemented, they are:
Surface geology
Gravimetric method
Magnetic method
Hydraulic Fracturing
Seismic Mapping
Environmental implications
Deep water drilling
Track-14: Digital oil field Transformation and Advanced oil and gas Technologies:
The digital oil transformation is the new method to exploration which is becoming more necessary as it is of low cost and less man power. Basically people think digital field as a fancy technology hub but is better described as not as a physical presence. By using the digital oilfield wide variety of activities can perform.
Production optimization
Workflow automation
Track-15: Artificial Intelligence and Big-data in petroleum:
In the petroleum industry artificial intelligence is the application of the technology machine learning and data science. It is used to interpret data without human input; the operations can be done within the offshore industry where this artificial intelligence can monitor complex internal operations. The concept of big data is for growing volume, velocity and variety which are familiar with the work. These industries generates large amount of data.
Big data in reservoir engineering
Big data analytics
Big data in exploration
Intelligent robots in petroleum
Track-16: Fossil fuels:
A fossil fuel is formed by the decomposition of dead plants and buried dead organisms. The fossil fuel includes carbon, petroleum, coal and natural gas. Coal is abundant and cheap form of energy, oil has variable cost depending on geographic location. The fossil fuels are non-renewable resources. Fossil fuel releases a lot of pollutants when they are burned. By using the fossil fuel we can generate electricity.
Greenhouse gas
Geothermal Energy
Track-17: Petroleum Analytics and Digital Petrology:
The Petroleum analytics is a learning machine which is used for forecast of production to list out the data available from geology and geophysics. It is used in the operations of upstream and midstream. And the digital petrology is used to evaluate Digenesis processes during the formation of sedimentary basins.
Predictive Analytics
Analytics infrastructure
Advanced analytics at work offshore
Market Analysis
The global petrochemicals market size was valued at USD 539.3 billion in 2020 and is anticipated to register a CAGR of 8.5% over the forecast period. The market is driven by increasing product application in major end-use industries such as construction, automobile, and chemical intermediate manufacturing. Ethylene dominates the market in terms of value and volume, owing to its demand as a feedstock in the aforementioned end-use industries.
The European oil and gas market has been volatile in the last few years due to change in demand and supply of oil and gas. The economic crisis has reduced gas consumption rates and so the imports in 2015. This volatility is due to excess supply of gas leading to cheap market value and lack of the US and China import demand due to their shift of interest in unconventional gas production. Tee ebbing demand has led to falling of gasoline's growth contribution to 7.7% in 2016. In 2017, prices of oil and gas it likely to pull higher due industrialization, colder winter conditions and road transportation in Europe. Also, due to the slowdown of nuclear sector in Europe after Fukushima nuclear disaster, an increase in annual gas consumption of 20 to 40 billion cubic meters is expected from 2016 to 2020. Aftermath of 2011 Fukushima nuclear disaster, Germany had shut down 7 nuclear power plant and likely to exit more by 2020. Looking further, import of oil and gas by European countries is like to increase.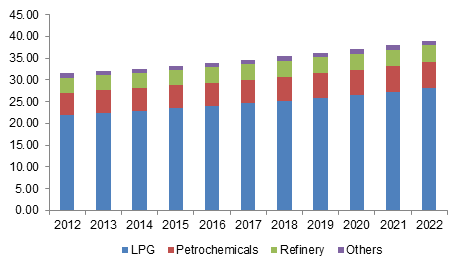 To Collaborate Scientific Professionals around the World
Conference Date October 28-29, 2020
For Sponsors & Exhibitors
Supported By
All accepted abstracts will be published in respective Conference Series LLC LTD International Journals.
Abstracts will be provided with Digital Object Identifier by